Explore our top 5 marketing platforms to help you kick off, supervise, grow, and strengthen your affiliate marketing business. All details inside!
It goes without saying that affiliate marketing is a highly profitable means of generating income.
Basically, it empowers brands to promote their products with the help of partners/affiliates in return for a reward. If compared to traditional marketing, such an approach multiplies many times the chances of success.
Needless to say that successful performance in affiliate marketing requires master plan, analytics, and reports to make sure you are on the right track.
In this regard, a smart marketing platform with a variety of helpful instruments can significantly ease the burden while you're paving your way to the top.
So, we've done our best and prepared our top 5 affiliate marketing platforms to help you kick off, supervise, and grow your affiliate marketing business. Off we go!
What is affiliate marketing software?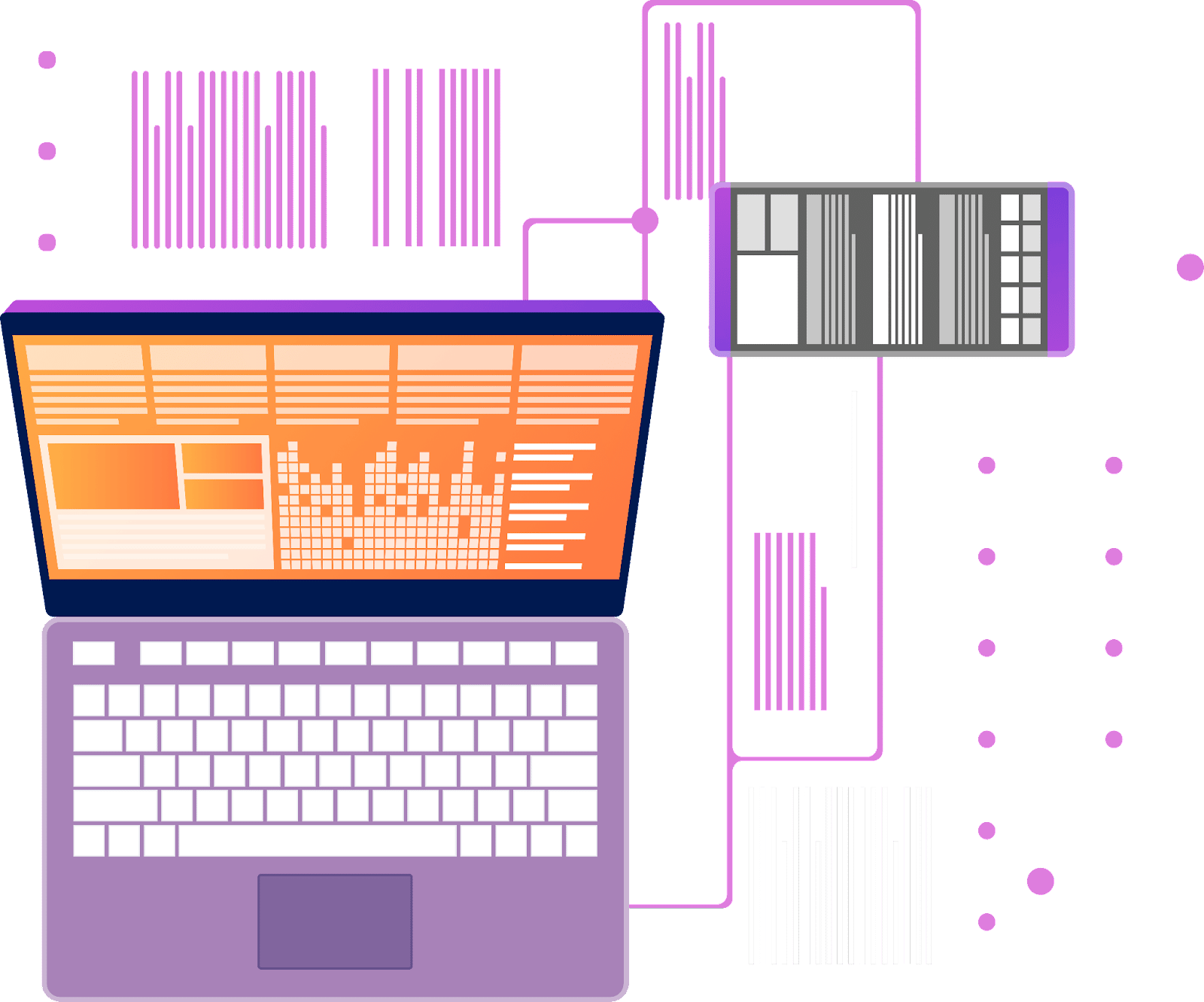 An affiliate marketing platform is a tool that combines all essentials needed for affiliate management: profiling, onboarding, tracking and reporting, and paying out commissions.
Moreover, such a platform can often identify and stop fraud, protect affiliates and a budget, and regularly analyze the activity to reduce the chances of being exposed to harmful attacks.
What criteria to consider in affiliate marketing software
Before we get down to the suggestions, here's a short list of criteria to take into account when choosing software to support your affiliate marketing initiatives:
Intuitive interface
A user-friendly interface with a handy dashboard showing up-to-date stats is essential for a flawless affiliate business.
A platform should be convenient both for advertisers and their partners and allow them to overview all campaigns, their progress, and earnings for any period of time.
Another vital feature is the ability to customize a dashboard to match all the needs, so make sure the platform you choose has this.
Tracking and wrap-up
Tracking performance 24/7 is a must for affiliate marketing software. Quality reports and ongoing tracking allow you to see which of your efforts bring good results and which ones need revising.
Additionally, always having a detailed overview at hand can help you plan future campaigns more successfully.
Quality CRM
A proper CRM system can become an instrument to contribute to sales improvement. By intelligently profiling and handling your customers' data, a CRM system helps drive new traffic and increase lead generation.
Moreover, it assists in closing more deals, since it enhances customer experience and makes customer service more productive and efficient.
Customer support
Customer support should be available 24/7 within the platform both for advertisers and their partners. In this regard, the ideal platform needs a ticket system that can operate like central case management where all cases are recorded and cataloged.
Fraud detection
No matter how much you trust your affiliates, some unscrupulous marketers never miss a chance to scam their partners by sending bot traffic or making fake orders to get extra earnings.
That is why leveraging smart ad fraud detection tools is a must if you want to effectively protect your campaigns.
The list of best affiliate marketing software
Now, knowing all the key features, uncovering the perfect platform should not be hard. And here are some fantastic options.
Everflow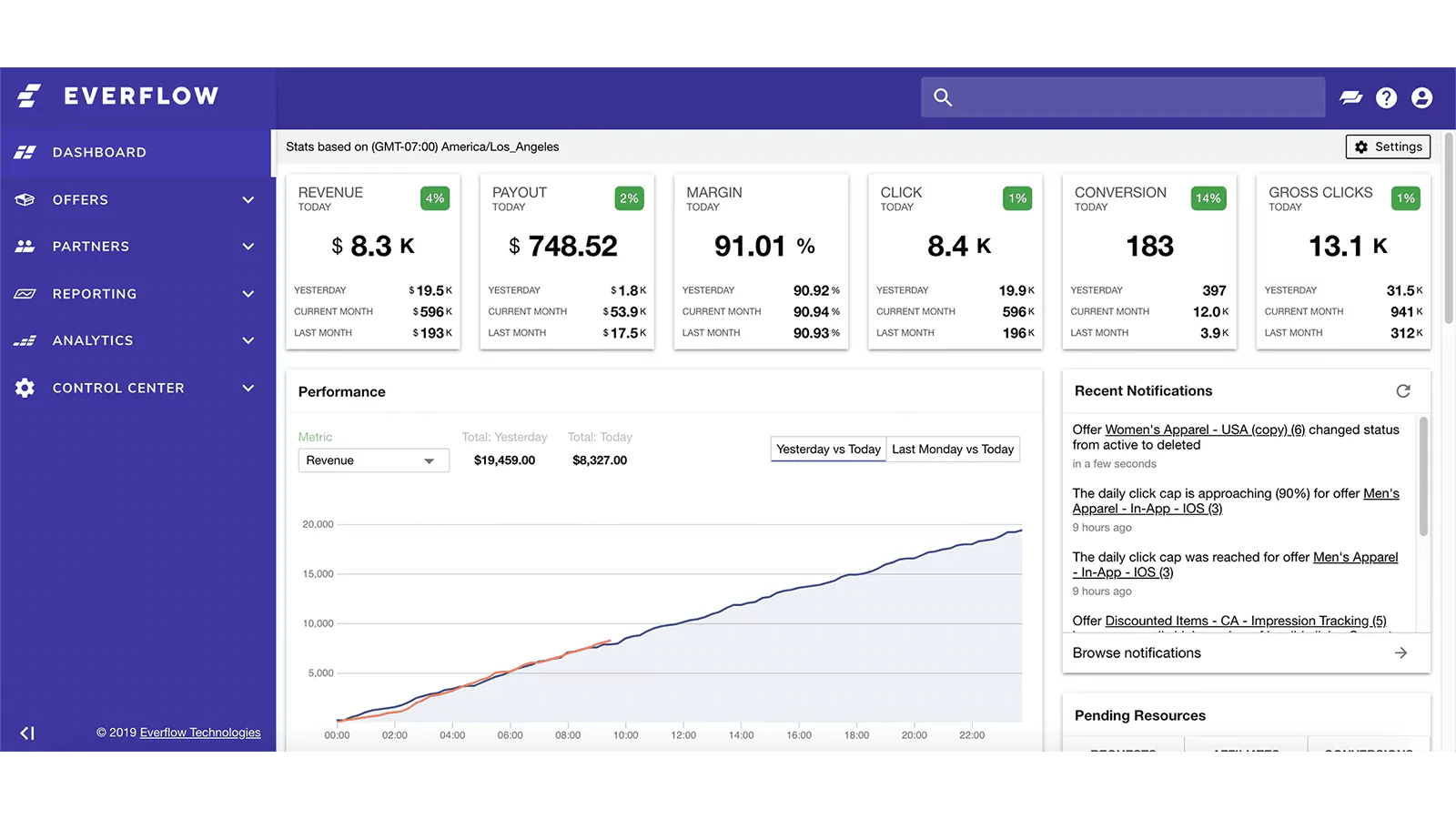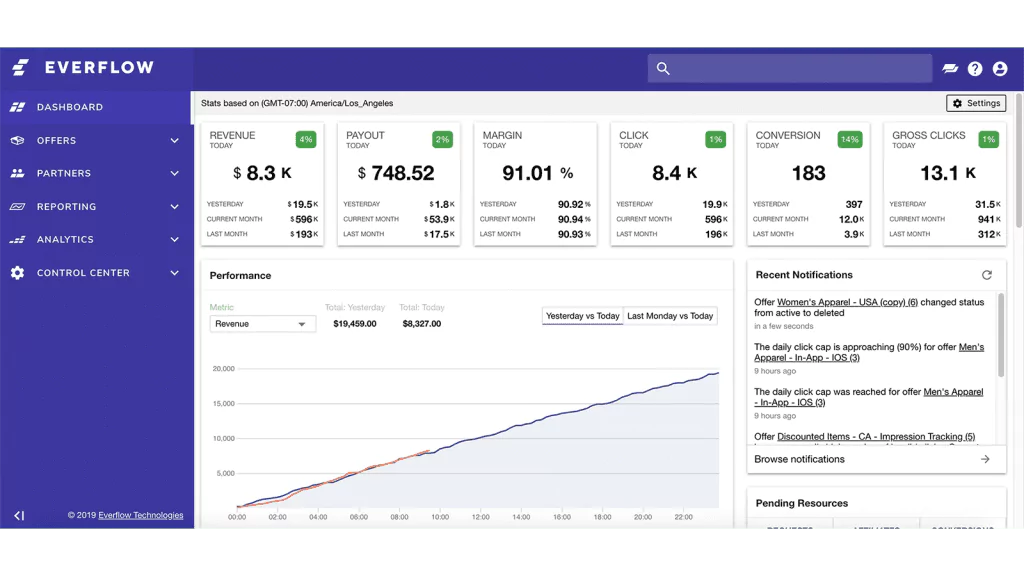 Everflow is a partner marketing program that goes beyond managing abilities: it tracks every performance channel, integrates tech stack, and drills down into what delivers ROI. Designed for established or scaling online stores, Everflow's best features include:
Track all channels direct linking. Direct linking allows tracking and providing attribution for every partner and channel. As a result, you can get proper reporting from every marketing channel that drives performance.
Mobile performance app tracking. Needless to say that effective mobile tracking requires a completely different set of capabilities than desktop tracking. Therefore, if the majority of your consumers interact via their phones, Everflow helps to track that performance.
QR codes. In fact, QR codes open up numerous offline opportunities and unlock more promotion methods for partners. So, if affiliates operate both offline and online, they can easily generate their unique QR tracking codes to drive users to advertisers' websites and track their conversions.
Pricing: From $750 per month
Post Affiliate Pro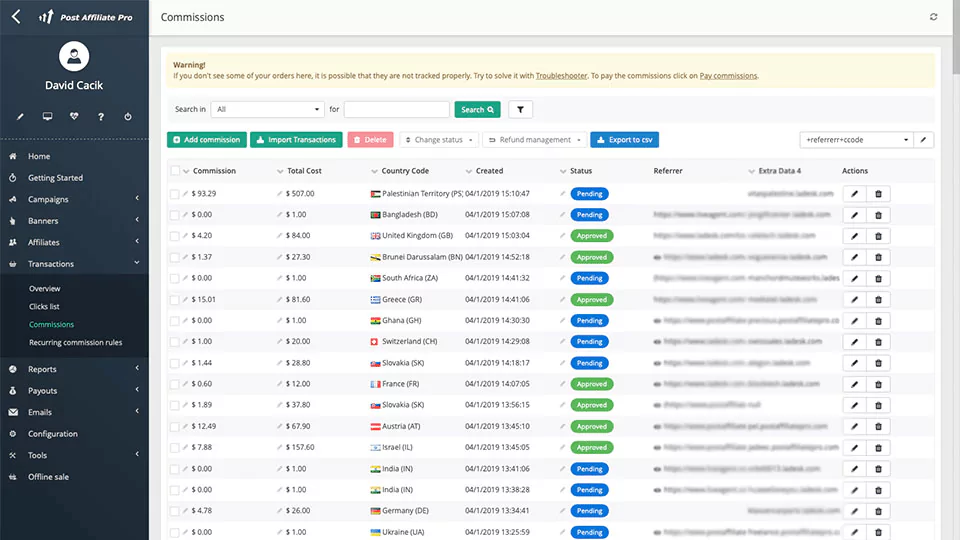 Post Affiliate Pro is the affiliate marketing tracking software that manages multiple affiliate programs, tracks affiliate partner effectiveness, assigns commissions, and issues payouts. With Post Affiliate Pro, you can:
Track affiliates. The platform helps keep track of all affiliate partners' outcomes, interactions, qualified leads, and conversion rates.
Multiply leads. With Top Affiliate Pro, it's possible to exclude all non-affiliate sales to find top-performing products — this information makes it easier to earn more commission by promoting bestsellers.
Issue payouts. If you want to reward affiliate partners with commission bonuses, you can set an automatic payout that becomes active once they reach sales milestones.
Pricing: From $97 per month + free trial period.
Affiliatly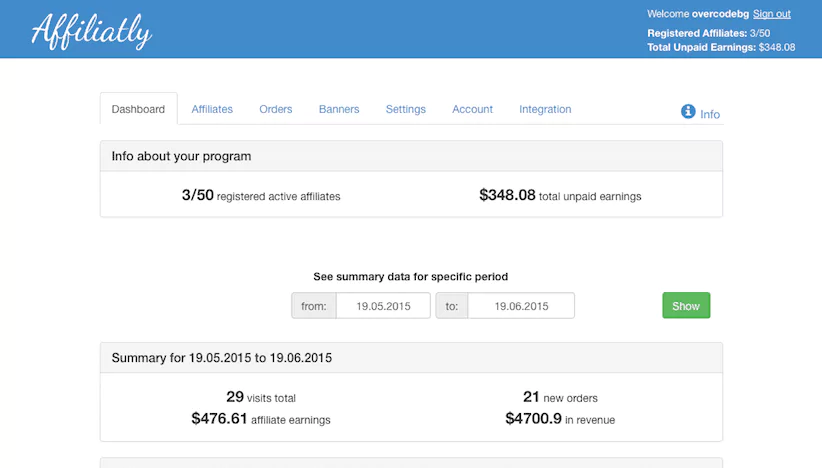 Affiliatly is easy-to-use affiliate tracking software for eCommerce to boost sales and get insights about every affiliate. Some of Affiliatly's best features include:
Individual affiliate management. For each affiliate, Affiliatly offers detailed stats and the ability to manage their account.
Extensive settings. Perhaps the greatest thing about the platform is an extensive range of settings that enables controlling every side of the affiliate program.
Payout options. With Affiliatly, you can offer your affiliates payment options, for example, gift cards for your store.
Pricing: $16 per month. Free 90-day trial available.
Tapfiliate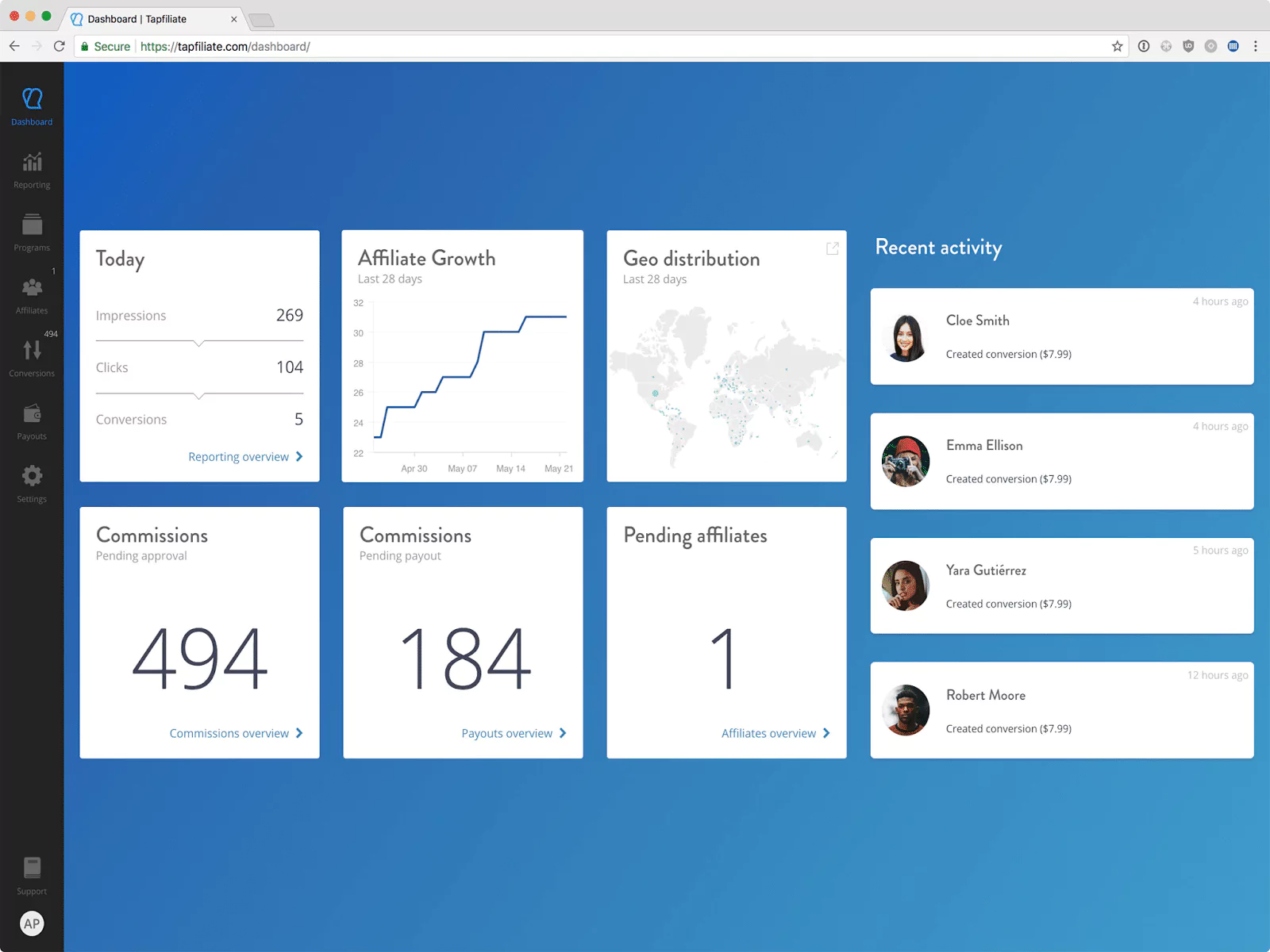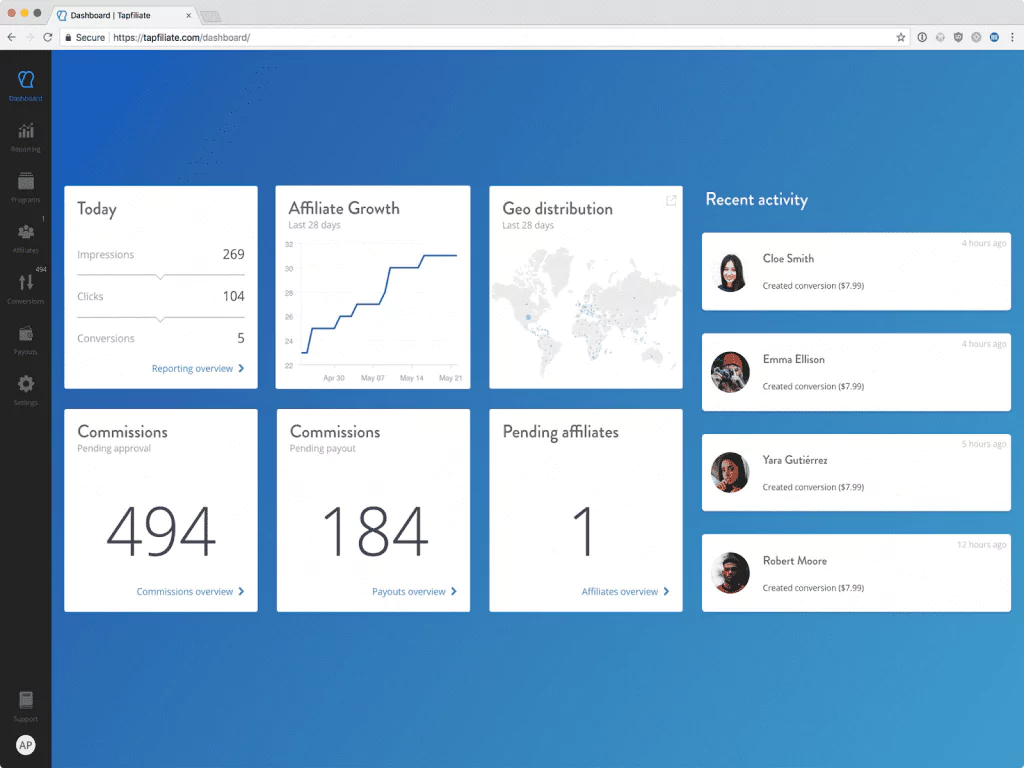 Tapfiliate is affiliate tracking software for eCommerce and SaaS that seamlessly integrates with a site in just minutes to track and grow affiliate marketing programs. Some of Tapfiliate's most popular features include:
Affiliate seamless onboarding. Tapfiliate empowers affiliates to easily onboard and gives them everything they need to promote a business in their personal, branded, and affiliate dashboards.
Regular sales tracking with links and coupons. Tapfiliate promises industry-leading tracking technology with customizable links for tracking online and the possibility to track non-cookie-based conversions via coupons.
Automated affiliate recruitment. The affiliate recruitment feature automatically invites new users to promote your offering, launches referral links, and creates invitation emails that ignites interest in your brand.
Pricing: From $89 per month. Free 14-day trial available.
UCLIQ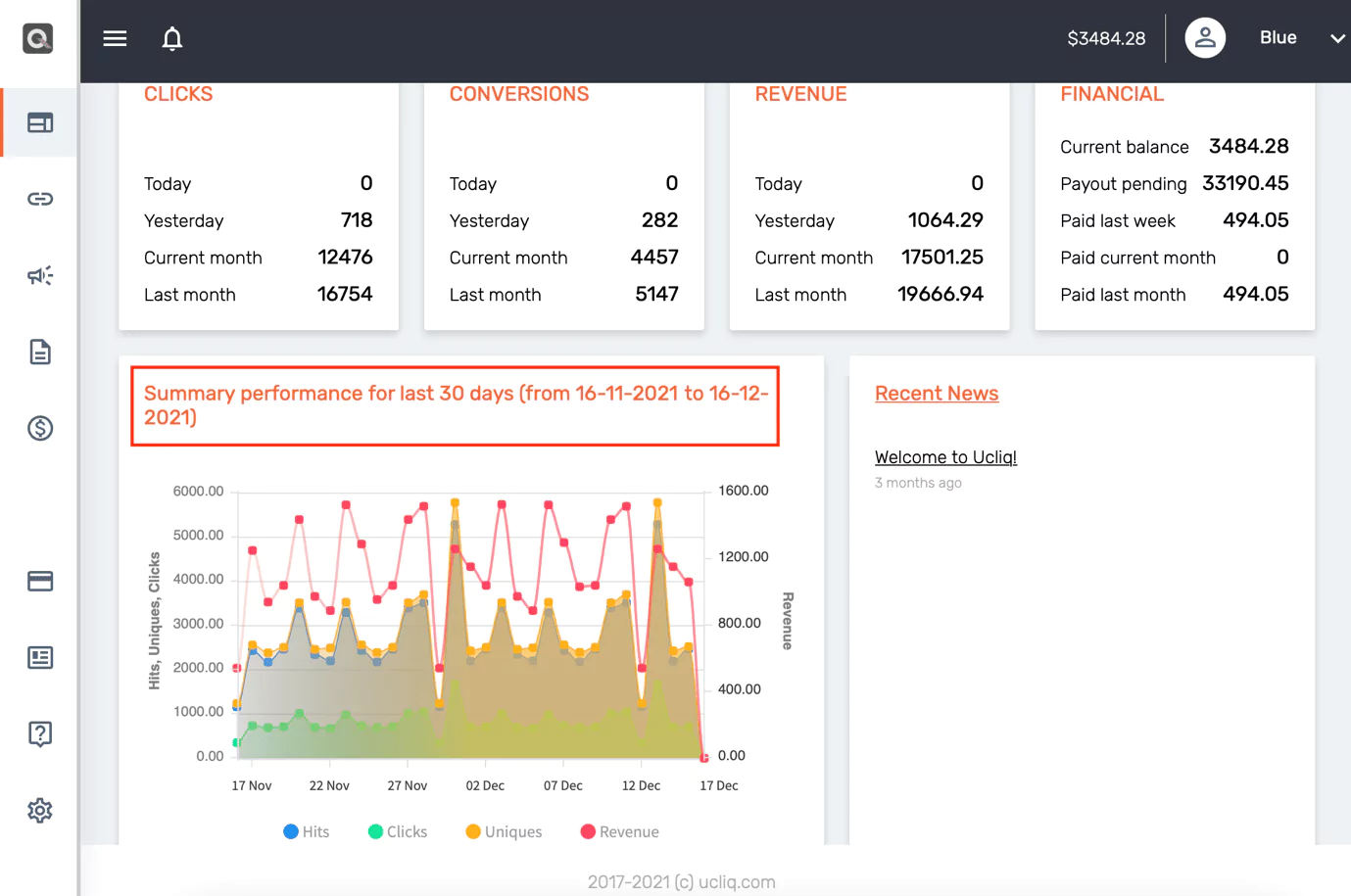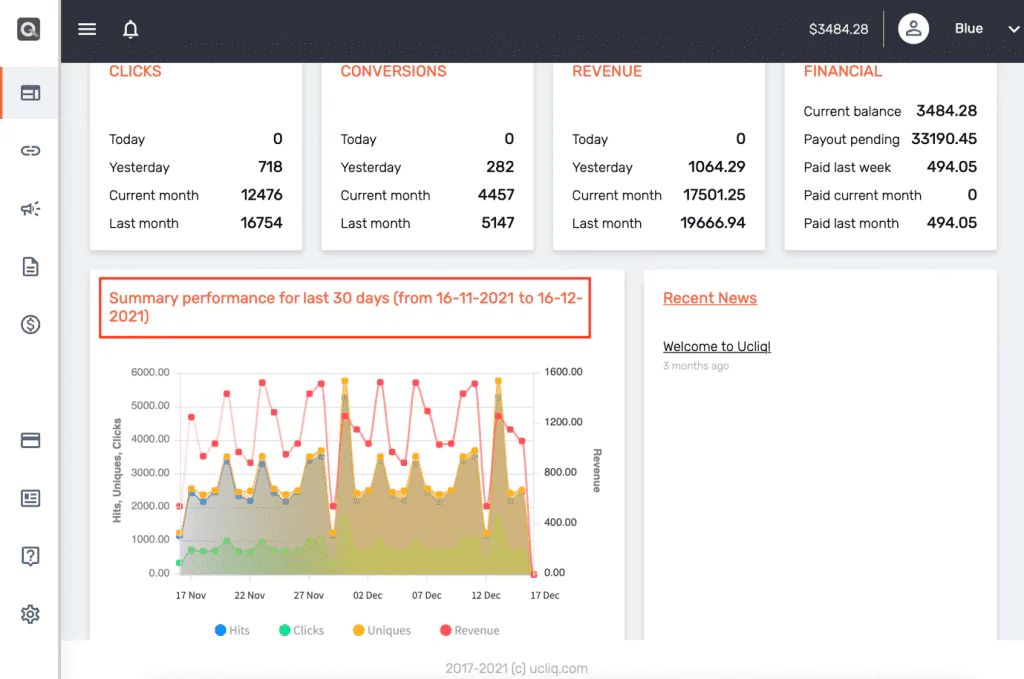 Of course, we'd like to seize the moment and mention our software. UCLIQ is a cloud-based performance marketing platform with a unique Smart Traffic Delivery system, allowing for outstanding improvements in conversion rates, EPM, and other marketing KPIs.
The best features of UCLIQ are the following:
Performance tracker and KPI analytics. Scale your analytics without limits with a world-class tool based on cutting-edge analytics. Get the most out of your business by understanding your traffic, GEO, and niches and refining your funnels and monetization.
Comprehensive fraud detection and prevention. Stop the ongoing fight against fraudsters and dishonest marketers. Now you can easily filter out bot traffic, motivated sources, and chargebacks due to our next-generation Fraud Monitoring and Prevention tools. Improve your EPM and EPC by learning which partnerships are fully transparent and which need to be discarded.
AI-driven traffic delivery. UCLIQ AI-driven traffic delivery makes it possible to significantly reduce expenses on support managers and manual funnel optimization to let you focus on other crucial aspects of your business.
Pricing: From $299 per month. Individual pricing plan by agreement.
Want to get to know us better? Sign up or contact us anytime. We will be happy to answer all your questions.